This is the third and final part of our Fulfilling the Future series. In this series we are analyzing the three primary pillars of material handling — Conveyance Technologies, Robotics Solutions, and Order Fulfillment Systems — in the context of digitization and building resilience in supply chains to combat future disruptions.
If you missed the previous part, catch up here:
Part one: "Fulfilling the Future: Conveyance Technologies"
Part two: "Fulfilling the Future: Robotics Solutions"
The Backdrop
The past few years have been tough for supply chains. Labor shortages, the "Great Resignation", ongoing lockdowns, gaps in production, material shortages, and other factors (most of which stem from the global pandemic) have created ongoing supply chain disruptions felt by, well, everyone. Case in point, a simple "supply chain news" google search will net results from nearly every news network and journalistic publication describing the current issues facing our economy and how they affect the day to day lives of average Americans.
It's not all doom and gloom, though, the outlook is bright. These disruptions and supply chain issues have exposed just how truly fragile the global supply chain can be, and in doing so they have become a catalyst for growth and innovation where the world needs it most. This need for growth is exciting. It has created an intense pressure felt throughout every tier of the material handling industry to improve, build resilience, and be better prepared for future disruptions. The primary way that this growth is being exercised is through the digitization of supply chains. If you missed our previous article, "2021 Material Handling Year in Review: Supply Chain Disruptions Spurring Digitization," it goes into more detail about the effects of the pandemic and how this push for digitization is materializing.
This article will go into detail about Order Fulfillment Systems (OFS) and how they can help build supply chain resiliency and help digitize in the face of future disruptions.
Order Fulfillment Systems help manage increasing customer expectations.
Customers today have never had it easier shopping online. They expect and demand to be able to be purchase whatever they want – with all the bells and whistles they're looking for – and they expect to receive it quickly. Generally, there is one thing that people want these days: fast shipping. An OFS is the perfect way to manage increased customer expectations, and the equation is simple:
Order Fulfillment Systems = orders out the door quicker.
Orders out the door quicker = faster delivery times.
Faster delivery times = happy (and repeat) customers.
If customers or clients can't find adequate levels of convenience in one buying experience, they'll go somewhere else. OFS are the perfect way to cut down on shipping times and can help even small companies compete with big distribution players in the e-commerce space.
Order Fulfillment Systems reduce cost.
OFS are inherently cost saving in nature. They're in a lot of ways very similar to Robotics Solutions in that they come with varying degrees of human interactions, but all boil down to improving accuracy and increasing throughput. Weighing, labeling, routing, and dimensioning — all critical steps in the order fulfillment process — are menial, tedious, and error-prone. Investing in an OFS that can automate some or all these tasks cuts down on money lost due to human error and frees up that labor to do tasks that automation can't handle.
Order Fulfillment Systems lead to further automation.
For many small to mid-sized operations, automation starts with a simple automated OFS. The story has been told a million times: a small mom and pop operation "makes it big" and grows their business to the point they move out of their starter location and into a full-fledged warehouse to manage their increase in orders. After a time, they're ready to branch into automation, but don't have the cash on hand for a million-dollar conveyor system or advanced robotics. Where do they start? An automated Order Fulfillment system to help them do what they do best — get orders out the door.
---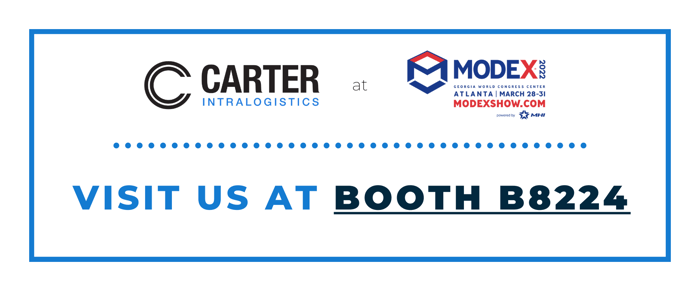 Carter will be showcasing all our Order Fulfillment System at MODEX 2022 in Booth B8224. Click here to visit Carter's MODEX 2022 Hub where you can book a meeting before the rest of our slots fill up. If you book a meeting, we can give you a personalized tour and show you firsthand how our OFS can help fulfill your future.
If you'd like to reach out directly and learn more about who we are, what we do, and what we have going on at MODEX — reach out to sales@carterintralogistics.com or contact us at www.carterintralogistics.com/contactus.