This is the second of our three-part Fulfilling the Future series. In this series we are analyzing the three primary pillars of material handling — Conveyance Technologies, Robotics Solutions, and Order Fulfillment Systems — in the context of digitization and building resilience in supply chains to combat future disruptions.
If you missed the previous part, catch up here:
Part one: "Fulfilling the Future: Conveyance Technologies"
The Backdrop
The past few years have been tough for supply chains. Labor shortages, the "Great Resignation", ongoing lockdowns, gaps in production, material shortages, and other factors (most of which stem from the global pandemic) have created ongoing supply chain disruptions felt by, well, everyone. Case in point, a simple "supply chain news" google search will net results from nearly every news network and journalistic publication describing the current issues facing our economy and how they affect the day to day lives of average Americans.
It's not all doom and gloom, though, the outlook is bright. These disruptions and supply chain issues have exposed just how truly fragile the global supply chain can be, and in doing so they have become a catalyst for growth and innovation where the world needs it most. This need for growth is exciting. It has created an intense pressure felt throughout every tier of the material handling industry to improve, build resilience, and be better prepared for future disruptions. The primary way that this growth is being exercised is through the digitization of supply chains. If you missed our previous article, "2021 Material Handling Year in Review: Supply Chain Disruptions Spurring Digitization," it goes into more detail about the effects of the pandemic and how this push for digitization is materializing.
This article will go into detail about Robotics Solutions and how they can help build supply chain resiliency and help digitize in the face of future disruptions.
Robotics increase productivity without demanding more labor.
Tedious, repetitive tasks — which are extremely common in warehouse environments — have the tendency to tie up labor that would be more effectively assigned to projects more suited for humans, like problem solving. As such, robots are the perfect replacement to handle these routine, labor-intensive, repetitive, tedious, often injury-prone functions while effectively increasing precision and decreasing cost in the long-term.
One of the huge challenges facing supply chains around the world right now is what's come to be known as "The Great Resignation." There is a massive labor shortage in the warehouses and supply chains. Robotics can help solve this solution by increasing productivity and throughput by automating simple tasks that require manual labor.
Robots reduce errors.
Leveraging robots in the warehouses greatly decreases the chance of errors when compared to traditional, human labor sources. Robots don't make mistakes when entering data or scanning a barcode. They don't deviate from a set workflow or process. They also ensure proper storage and provide a level of consistency and accuracy that cannot be replicated with humans.
Robots improve safety.
Robots can help improve safety by eliminating injury-prone or dangerous tasks that were previously completed by humans. They don't need human intervention and to be frank they often perform better without human intervention. They are programmed with sensors to avoid other robots and objects. This decreases the likelihood of accidents that could affect a worker's health and safety, including accidents like collapsing pallet racks, strained muscles, slips, falls, and trips. Robots can eliminate these common risks for laborers because they are able to handle climbing, pick-up, packaging, and navigating around the warehouse.


---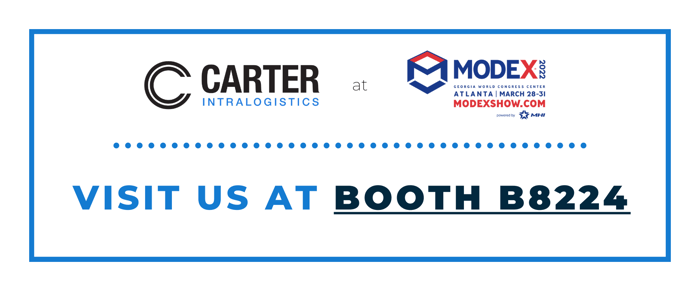 Visit us at MODEX 2022 in Booth B8224
Carter will be showcasing our Robotics Solutions at MODEX 2022 in Booth B8224. Click here to visit Carter's MODEX 2022 Hub where you can book a meeting before the rest of our slots fill up. If you book a meeting, we can give you a personalized tour and show you firsthand how our Robotics Solutions can help fulfill your future.
If you'd like to reach out directly and learn more about who we are, what we do, and what we have going on at MODEX — reach out to sales@carterintralogistics.com or contact us at www.carterintralogistics.com/contactus.