This is the first of our three-part Fulfilling the Future series. In this series, we are analyzing the three primary pillars of material handling — Conveyance Technologies, Robotics Solutions, and Order Fulfillment Systems — in the context of digitization and building resilience in supply chains to combat future disruptions.
The Backdrop:
The past few years have been tough for supply chains. Labor shortages, the "Great Resignation", ongoing lockdowns, gaps in production, material shortages, and other factors (most of which stem from the global pandemic) have created ongoing supply chain disruptions felt by, well, everyone. Case in point, a simple "supply chain news" google search will net results from nearly every news network and journalistic publication describing the current issues facing our economy and how they affect the day to day lives of average Americans.
It's not all doom and gloom, though, the outlook is bright. These disruptions and supply chain issues have exposed just how truly fragile the global supply chain can be, and in doing so they have become a catalyst for growth and innovation where the world needs it most. This need for growth is exciting. It has created an intense pressure felt throughout every tier of the material handling industry to improve, build resilience, and be better prepared for future disruptions. The primary way that this growth is being exercised is through the digitization of supply chains. If you missed our previous article, "2021 Material Handling Year in Review: Supply Chain Disruptions Spurring Digitization," it goes into more detail about the effects of the pandemic and how this push for digitization is materializing.
This article marks the start of a new series from the Carter Intralogistics blog, Fulfilling the Future. This three-part series will look at the primary pillars of material handling — Conveyance Technologies, Robotics Solutions, and Order Fulfillment — and dive into how they will influence the future of supply chains.
Conveyance Technologies lay the foundation of future digitization and automation.
Conveyor is the backbone of any material handling operation. Whether it's rollers or belted, bucket or chain, powered or gravity, mobile or rigid, or any other variation, it is the primary way that companies around the globe move material from point A to point B in a warehouse. As such, it is critical that companies invest in a conveyor system that ensures a solid foundation to start the journey into digitization and automation.
Installing or upgrading a conveyor system so that it includes an Intelligent Warehouse Control System — IWCS for short — is the very first step to digitizing, branching into automation, and ultimately increasing supply chain resilience and strength in the face of disruption. A good IWCS will allow for a variety of automation solutions like palletizing, depalletizing, automated order fulfillment solutions, automated storage and retrieval systems, automated guided vehicles, and others to be easily integrated into the system.
Whatever the automation or digitization solution that's being considered, it all starts with a good conveyor system and IWCS controlling it.
Conveyance Technologies are becoming more flexible, more mobile, and more adaptable.
In today's modern material handling world, rigid conveyor systems are quickly running out of style. While these traditional conveyors have always made up the majority of conveyor used in e-commerce and retail distribution, fast changing customer expectations and fluctuations in demand warrant new types of conveyance technologies. Further compounding this shift is the economic and supply chain disruption caused by the COVID-19 pandemic. These factors have contributed to a dramatic shift to mobile and flexible conveyor solutions in lieu of traditional "bolted down" systems. These solutions have many benefits of their more permanent counterparts, all of which boil down to providing agility — and in turn resiliency — in the supply chain.
The first key benefit of flexible and mobile conveyor solutions is that they afford companies flexibility to make changes and decision even after the conveyor is quoted, purchased, and delivered. With traditional conveyor, installation times are at a minimum six weeks — and that doesn't include quoting, pricing, and designing the solution before delivery and installation. Things change quickly in warehouses. Demands rise and fall; labor comes and goes. It's truly impossible to design a rigid conveyor system that is future-proof in the sense that no change could come along and disrupt it. The key benefit of flexible and mobile conveyor is that it is much more "future-proof" than rigid conveyor because it allows companies to rearrange their conveyor lines to fit the space available in the warehouse.
While its presence is shrinking in modern material handling applications, rigid conveyor does have its space in various industries and will never go away completely. The second biggest benefit of flexible and mobile conveyor systems is that they can be used to augment existing systems. For example, Company A has a rigid conveyor system with sortation and transfers that sort and ingest inbound inventory. As their business increases, they're finding their input zones are not keeping up with the amount of inventory entering the warehouse. Company A could then deploy flexible and mobile conveyor units to other areas in the warehouse, connecting additional input zones to their existing conveyor solutions. Rather than completely scaling up and designing a brand-new, expensive solution, they can simply invest in rapid-deploy flexible and mobile conveyor solutions to augment their existing system.
The third and final key benefit of flexible and mobile conveyor solutions is perhaps the simplest — they allow companies to reconfigure their warehouse space without having to tear down and uninstall their conveyor systems. As stated previously, available space in warehouses is a hot commodity and changes all the time. With fluctuations in demand comes fluctuations in labor and inventory. Those extra workers and that extra inventory needs go somewhere, right? Flexible and mobile conveyor solutions are a warehouse manager's dream come true. If they must deal with extra inventory, they can shift their existing conveyor lines as needed to accommodate for floor space being sucked up by extra inventory.
---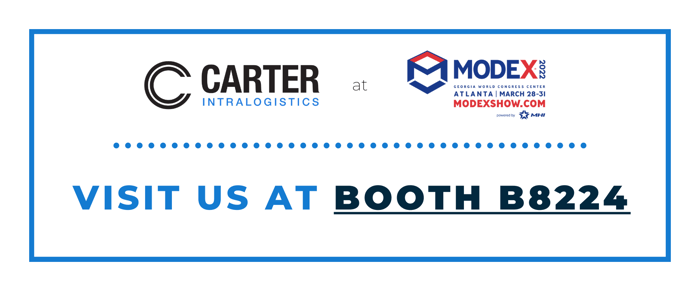 Carter will be showcasing all of our Conveyance Technologies at MODEX 2022 in Booth B8224. Click here to visit Carter's MODEX 2022 Hub where you can book a meeting before the rest of our slots fill up. If you book a meeting, we can give you a personalized tour and show you firsthand how our conveyance technologies can help fulfill your future.
If you'd like to reach out directly and learn more about who we are, what we do, and what we have going on at MODEX — reach out to sales@carterintralogistics.com or contact us at www.carterintralogistics.com/contactus.