Frederick City Mayor Visits Carter's Monroe Facility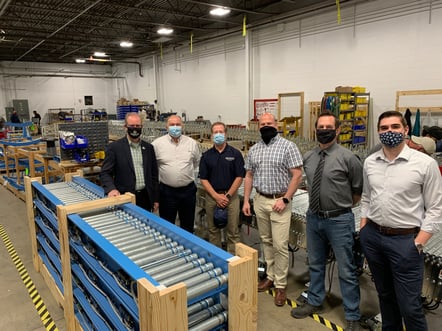 On Friday, May 14, Carter's Leadership team hosted Mayor Michael O'Connor at one of our two facilities in Frederick, MD. As businesses have opened back up coming out of the pandemic, O'Connor has been performing routine Friday visits to as many businesses in the city as he can. The mayor and his party visited our Monroe Facility in South Frederick, right off of Monocacy Boulevard.
Opened in mid-2020, the Monroe facility is the newest addition to Carter's manufacturing operations and nearly doubled our manufacturing capacity for CarterRoll™ and CarterMobile™ conveyor lines. Monroe is primarily used for final conveyor assemblies so when someone orders MDR conveyor from Carter, it's shipped directly from Monroe. During the visit, we got to show off our CarterMobile™ and CarterFlex™ assembly processes, two conveyor types that have been paramount in helping businesses stay flexible and adjust their supply chains during the pandemic.
Representatives from Carter included Duane Glass (President), Cliff Fettner (Director of Engineering) and Vince Crabill (Production Manager). In addition to O'Connor, the mayor's party included Richard Griffin (Director of Economic Development) and Mary Ford-Nail (Manager of Economic Development).
Carter Intralogistics has been proudly operating in Frederick, MD for over 40 years, providing manufacturing, engineering, finance, sales and other jobs directly to the City of Frederick and surrounding areas. We appreciated the Mayor taking the time to visit our facility, hear our concerns and learn about what we do.
Photo Credit: City of Frederick Department of Economic Development