In 2021, Carter Intralogistics focused on strengthening partnerships with area school systems, colleges and tech schools, and community organizations.
Let's be real…not many K-12 students are considering careers in the material handling world. Last year, our talent acquisition team heard from numerous teachers who said their students were not aware of the opportunities in this industry and we were determined to change that.
Of course, we know it's important to focus on the universities and tech schools, since many of their graduates are ready to enter the workforce. But we also know it's important to focus on elementary, middle, and high school students since they are thinking about what they want to be when they grow up. So, whether if these students plan to go to college or begin a full-time job, Carter wants to make sure these students know that there are all kinds of opportunities awaiting them.
With our presence in Savannah, Georgia, Carter Intralogistics started forming relationships with the Savannah Chatham County Public School System and the Effingham County School District. These two public school systems have a combined total of around 51,000 students. That is a huge workforce of students and many of them could find their way to our industry.
In October 2021, Lummus Corporation, the parent company of Carter Intralogistics, partnered with the Savannah Economic Development Authority (SEDA) for its "Economic Development for Educators" event. A group of 12 instructors from the Savannah Chatham County Public School System toured Carter's Coleman Facility in Savannah to learn more about our company and the opportunities available to their students.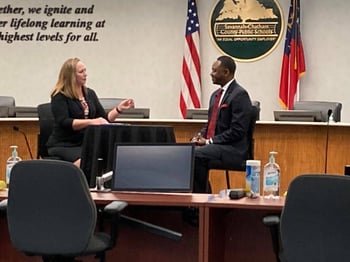 Thanks to the SEDA event, our talent acquisition team was able to connect with the instructors and discuss future opportunities to engage with their students. Since then, Carter's HR Talent Manager Leonard Caver was asked to be featured in one of Savannah Chatham County Public Schools' "Connections to Careers" video (pictured right). The video gives insight on our company and the types of roles available to students. The school system says the video should be finished later this month and it will be available to their entire student body via YouTube.
In November 2021, instructors from Groves High School, a school within the Savannah Chatham County Public School System, asked Carter to hold a virtual discussion with several of their classes. We were happy to connect with these students, especially since this high school has a logistics program. We enjoyed sharing information with these students and it sounds like they did too.
At Groves High School, we are always looking for opportunities to connect the learning that takes place in the classroom with the real world. Our students appreciated the chance to learn more about what Lummus Corporation and Carter Intralogistics do right here in the Savannah area. In addition, our students were eager to learn how the content they are learning in the classroom translates to the working world while also learning about potential future career opportunities. – Spence Riggs, CTAE Instructor at Groves High School
In 2021, we also focused on our relationship with the Effingham County School District which neighbors Chatham County. Last semester, our talent acquisition team met with Todd Wall who is the CEO of the Effingham College and Career Academy (ECCA). ECCA is a charter school for high school students interested in programs, like engineering and technology and logistics.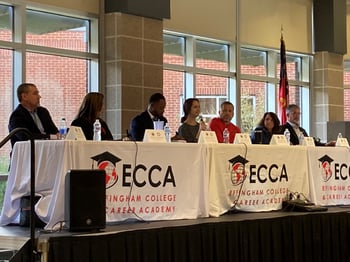 After taking our first tour of the campus, Leonard was invited to speak at ECCA's "Careers and Experts" event (pictured left). The high school students were able to ask an employer panel questions about their companies. We loved seeing so many students wanting to engage with us and other businesses.
A few weeks after the panel event, Carter was asked back to ECCA for an advisory council meeting. HR Talent Manager Leonard Caver, Logistics and Warehouse Manager Anthony Umland, and Social Media and Outreach Coordinator Zach Logan participated in the logistics portion of the meeting where they sat down with other businesses and school instructors to discuss what high school students should be learning in their classrooms. We also discussed opportunities to allow students to come to our facility to learn more about the industry.
2021 proved to be a great start for our outreach efforts and we are looking forward to what's to come in 2022. Not only do we want to continue building our partnerships with Savannah Chatham County Schools and the Effingham County Schools, but we also want to reach out to students in other surrounding school districts. And with our presence in Frederick, MD, we also want to make sure we connect with those surrounding school systems as well.
We are excited to see more students find interest in our industry and we hope to see more find interest in the future. If you know of a school district or school program looking for more industry involvement, please email our Social Media and Outreach Coordinator at zach.logan@lummus.com.