Beginning Your Career at Carter: A Recent Grad's Journey Into the Manufacturing World



College graduations are set to take place soon, which means thousands of soon-to-be graduates are looking to join the workforce. Although it's an exciting time, it can also be stressful trying to land that first role after college.
Fuller Prickett, one of our manufacturing engineers in Savannah, Georgia, understands what new graduates are going through, because he was in their shoes a few months ago.
Prickett graduated from the Citadel in Charleston, South Carolina, in May. He said he was applying for various engineering jobs when he came upon one of our job listings posted on Carter Intralogistics' LinkedIn page.
After several interviews, our parent company, Lummus Corporation, hired Prickett in September to work at our Coleman facility in Savannah. When it comes to manufacturing Carter's products and solutions, Prickett says his role is to keep production rolling and to improve the workflow throughout the facility.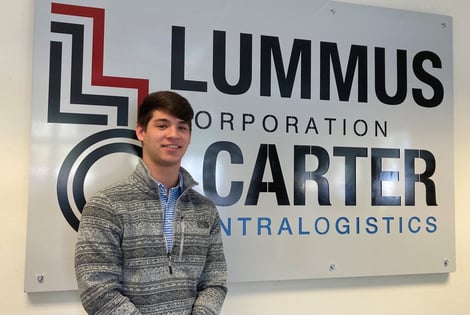 "I have learned so much after being here for only a couple of months," Prickett said.
Prickett originally thought that he would want to start his professional career at a larger corporation but has found there are many benefits to beginning his career at a smaller company.
"People have told me that smaller companies are great starting off, because you get to know everyone on a first-name basis."
Prickett says he enjoys being a part of a small team, because it allows him to form meaningful relationships with his fellow engineers. He says he's not afraid to ask for help and feels supported by the engineers who have been here longer.
"Even though, it's not a 2000+ employee team, it's a small team and we get things done."
Like many new graduates, Prickett had to relocate for his role. He said he enjoys living in Savannah, because there are plenty of things to do for young people.
"I absolutely love Savannah. Especially for engineering, Savannah is one of the top areas for it."
Although Prickett graduated in May, he is still a student. He just finished his first semester of a master's program and wants to continue his focus on science, technology, and innovation.
We asked Prickett if he had any advice for someone coming out of college and preparing to start his or her professional career. He said to keep being persistent! Prickett said to apply for jobs, but only apply to the ones that you are truly interested in.
"Nobody wants a job that you don't want to do. You don't want to wake up at 6:30 a.m. and think 'Oh my gosh. I have to go to work today.' You want to actually enjoy your role and have it be fun."
Carter Intralogistics is proud to support new graduates, like Prickett. We hope to welcome more graduates into the worlds of manufacturing and material handling. If you are a soon-to-be graduate or if you are ready to join our team, please head to our careers page at www.carterintralogistics.com/careers to see available opportunities.