At Long Last, Carter Gets the Client-facing Team Together



Carter Intralogistics hosted a week-long interdepartmental training event last week at our headquarters in Frederick, MD. After an almost 15-month hiatus from most out of state travel and in-person meetings because of the pandemic, it was a refreshing change of pace to see so many familiar faces in-person for the first time. The last time our team was all together in person was March 2020 at our pre-MODEX preparation meeting at the Coleman plant in Savannah, GA. At the time, there were all of 6 people total. Last week at our meeting in Frederick, we had well over 25 in attendance!
The primary purpose of the meeting was updating our Sales, Marketing, HR, R&D, Applications Engineering and Systems Engineering teams on all the new processes, products, and vendors we've taken on in the last year or so. With all the new growth, this was the first time most of our team members had met in person, and the first time the whole team had ever been together in the same room. We covered in detail our newest products, CarterFlex™ and CarterMobile™, while also taking some time to review our established product lines including CarterRoll™, CarterSpiral™, CarterPallet™ and palletizing and depalletizing solutions. R&D gave us some sneak peeks of the latest and greatest products and solutions coming down their pipeline — stay tuned for updates on that in the following months. We wrapped up the training sessions with several of our vendor partners hosting trainings for the components and materials we buy most frequently to manufacture and install our products and solutions.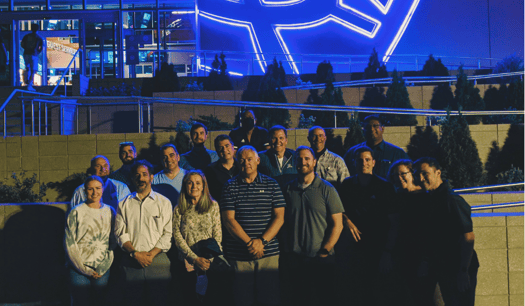 The week wasn't all business though, we had some fun too. We enjoyed plenty of meals out with clients, coworkers, and partners around the city of Frederick. We capped the week off with a trip to Top Golf to blow off some steam and figure out who's going to take the lead on trips to the course with clients in the future. After such a long and arduous year of virtual meetings and lack of personal interaction, this was a much-needed respite for all of us at Carter. We'd like to spend a special thank you to all the vendors who came out to meet with us and everyone at Carter who put in the time and effort to make this week happen.