Get to know CCS: Jeff McGrady, Site Superintendent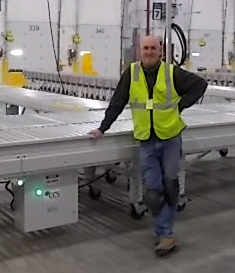 Jeff McGrady joined CCS in 2019 as the Site Superintendent. Since then, he's managed the day to day operations for any and all on-site CCS projects in addition to acting as the liaison between our clients and the office.
Jeff is originally from Dillon, SC and graduated from SBCC in Santa Barbara, CA. Before he was contacted by a recruiter and came onboard with CCS, Jeff worked as a Site Superintendent for Diversified Conveyors International, LLC for 5 years. As far as his favorite part about working at CCS, he says all of it is good so far (good to hear!). He values honesty in coworkers and when asked if he could solve one problem facing the material handling industry, he said he would try and correct the over-promising of job deadlines and product delivery.
Outside of work, Jeff likes to work in his garden, ride his Harleys and stand up paddle board. His favorite books are the Bible and Ender's Game. His favorite television show is The Last Alaskans and his favorite movie is Guardians of the Galaxy. When asked what his favorite sports team is, he said — and I quote — "Clemson Tigers, my blood runneth
ORANGE
."
Jeff is the face of CCS to a lot of people. Thankfully, he's the perfect fit for that role. He is a fan-favorite everywhere he goes, quick to bring a laugh and brighten anyone's day — clients and colleagues alike. We're lucky to have guys like him on our team!